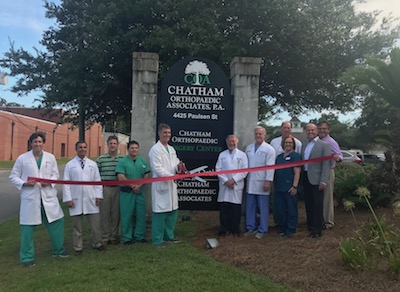 Last Thursday, we celebrated the grand re-opening of the
Chatham Orthopaedic Surgery Center
with a ribbon-cutting ceremony and social event.
Dr. Robert Hoffman
had the honor of cutting the ribbon, officially re-opening the Surgery Center as a partner of Surgery Centers of America (SCA).
The Chatham Orthopaedic Surgery Center is staffed with highly-trained and experienced physicians, nurses, and technicians who provide personalized care to patients with the most advanced technology and procedures. Located at our main office in Savannah, the Surgery Center provides patients with a comfortable and convenient setting for outpatient procedures including surgery of the spine, knee, foot and ankle, elbow, shoulder, and hand as well as pain management procedures.
We are pleased to officially announce our new partnership with SCA and look forward to continuing to serve patients in our community. The Chatham Orthopaedic Surgery Center is located at 4425 Paulsen Street, Building B, 2nd floor.